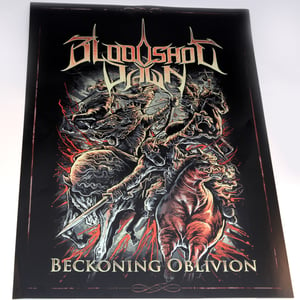 £

3.00
Beckoning Oblivion Artwork by Coki Greenway printed on glossy thick paper.
Available to post folded or rolled in a poster tube to avoid folding creases, please select relevant posting method when ordering.
******
Disclaimer -
Things can get a little hectic with day jobs, gigs, practice, etc. as well as sending out the merchandise ourselves. We aim to send packages out once per week, but sometimes this is not possible, so please allow up to 28 days to receive your order.
Proof of Postage and Tracking -
We keep a 'proof of postage' receipt for every package that is packed by us and subsequently handled by our national postal service 'Royal Mail'. This can be provided on request. In the event of undelivered packages, we can NOT accept responsibility provided we can supply the proof of postage document. However, we will be happy to do everything we can to resolve undelivered package issues regardless.
Due to the extra costs involved, we regret we can NOT send out tracked packages as a standard postage option, hence, no tracking number will be available. However, if you would like your package tracked this can be arranged if you are willing to pay the extra costs involved. Get in touch here with your order details if this is the case:
bloodshotdawnuk@hotmail.co.uk
Customs handling times overseas -
Some countries have a standard customs handling time which is longer than our 28 day disclaimer. In the event of a delayed order please check if your package is still being held with your countries customs department before contacting us.